Part one of the Kitchen Reno can be found here.
Last week I shared all about our kitchen renovation and all the nitty gritty details of what the process was like. And today I am going to go over our new appliances from Samsung!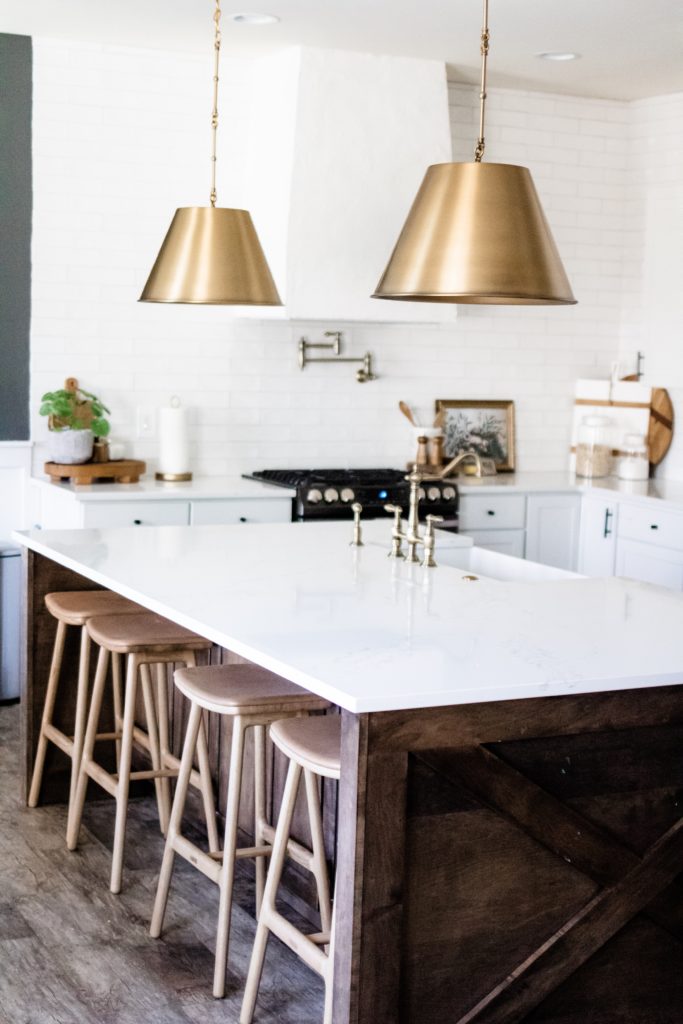 Actually, the color of these Samsung Appliances (Tuscan Stainless Steel) were one of the inspirations behind our color palette and overall feel for the renovation. We knew we wanted to keep it white and bright but we also wanted to add in warm tones and textures to create a balanced and neutral vibe. The Tuscan Stainless Steel color is so versatile! We used a combination of brass and bronze in our kitchen and I really feel like no matter the hardware choices, the Tuscan Stainless Steel color will work. It's a gray bronze hue with a satin finish which helps to make it super versatile with any color palette! And it really just elevates the kitchen.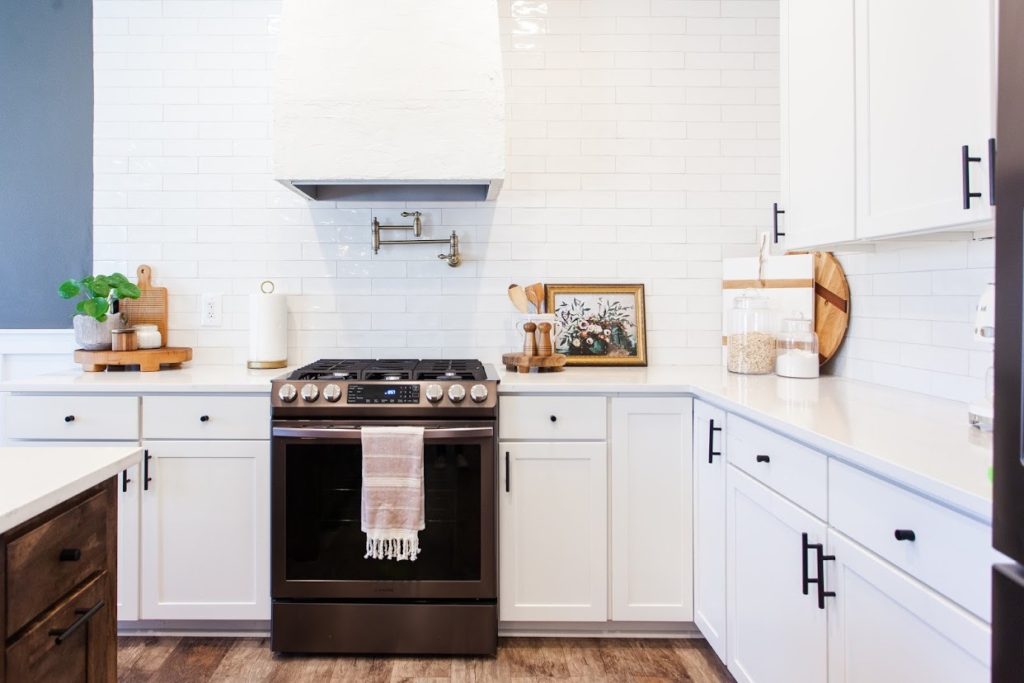 One of the things we ended up eliminating from our original kitchen was the microwave. So for this project we chose the beautiful Samsung Tuscan Stainless Steel fridge, range, and dishwasher. Let's chat about a few of my favorite features!
I'll start with the dishwasher. Originally my husband and I had discussed not even including a dishwasher in our plans. We had been mostly hand washing our dishes for the past several months because our previous dishwasher was not working properly. But I've gotta say, I am SO glad that we ended up axing that. This dishwasher is WHISPER quiet. I mean, you can actually have a conversation in the same room WHILE your dishes are being washed and you won't even realize it. It also pops open when it's finished which allows for the hot steam to release and your dishes dry more evenly. I love both of these features and have been so impressed by how well this dishwasher works!
Next is the range. The best part about this range is that it has WiFi connectivity… which means you can literally get an alert when your food is done cooking AND get some peace of mind to make sure that you remembered to turn the oven off afterwards!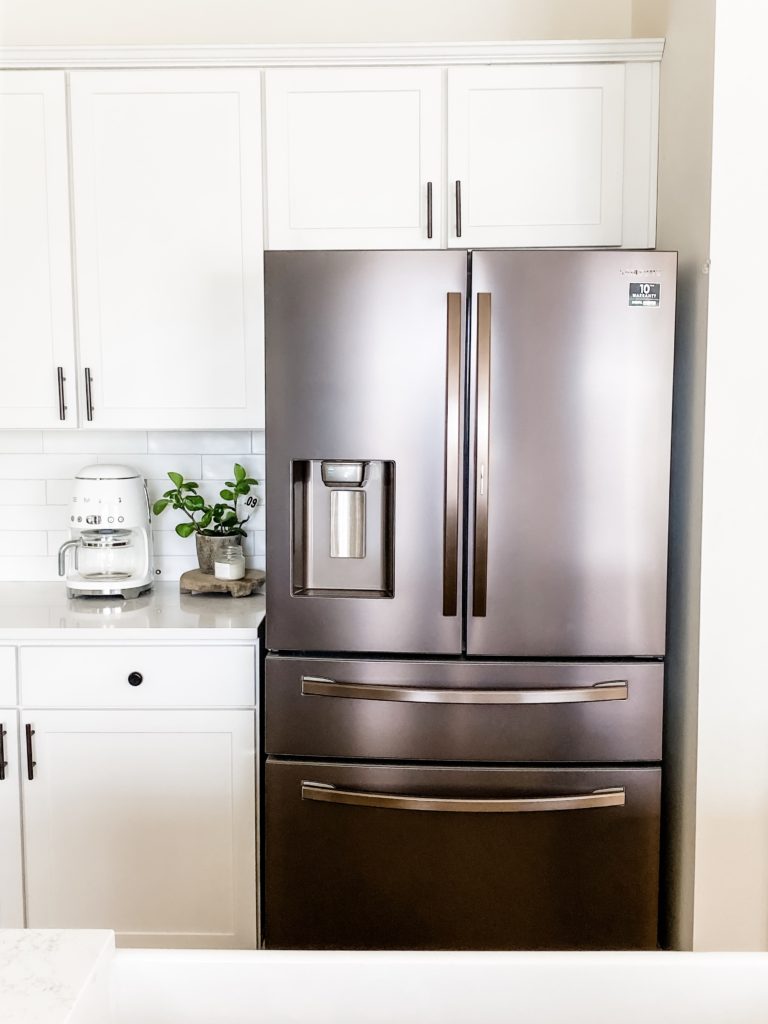 And finally… the refrigerator! I am actually super obsessed with this new fridge. My favorite part? Well, we call it the snack drawer! I keep all the kids snacks in here and its the perfect level for them to easily grab something healthy when they're hungry. Another one of my favorite features is the water pitcher that is inside the door. It automatically fills up and this has actually already come in handy for us! One day while working on the kitchen, they needed to turn the water off and they kiddos were getting thirsty but since I wasn't able to use the sinks or the actually water feature on the front of the fridge, I WAS able to use the pitcher that was already filled up inside! It was super handy and a feature that I didn't realize I would appreciate as much as I do. Also, will be so helpful for the holiday parties right around the corner.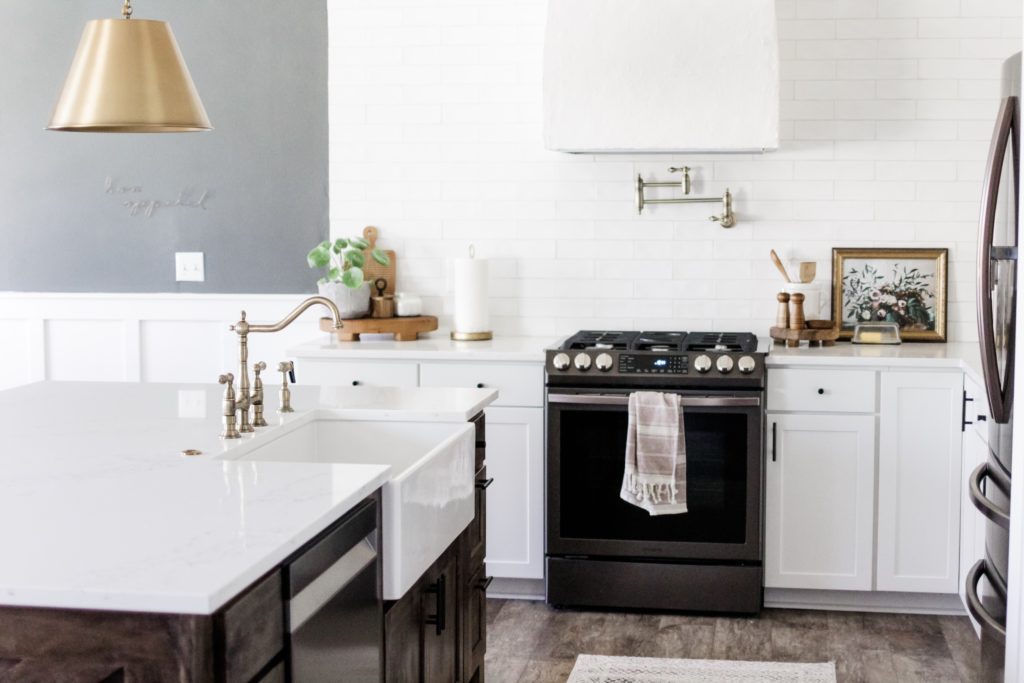 Aside from the aesthetic of these new Samsung appliances, we are so impressed by the overall quality and conveniences that they provide. I would highly recommend each of these appliances and am so happy to have them in our home!